Why TalkRemit is the Best App to Send Money Abroad to Ghana Quickly & Securely
If you regularly send money to family and friends in Ghana, you need a fast and reliable money transfer service that you can trust. There is a range of different options out there, but TalkRemit offers the flexibility to suit the needs of the diaspora and their loved ones back home.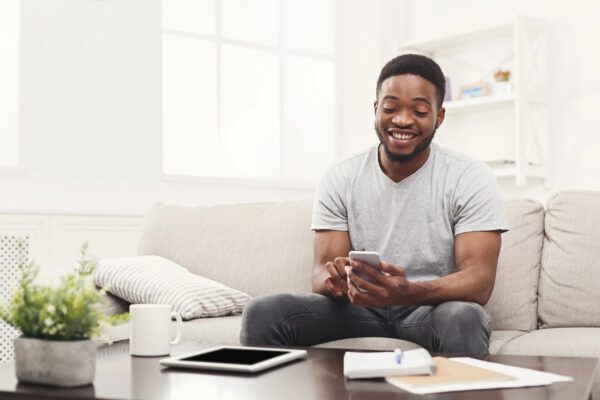 Using a money transfer service you can trust
Trust is an important factor when choosing a money transfer platform. You want to feel sure that your money is in safe hands and that your data is protected. TalkRemit only partners with trusted and reputable remittance service providers and third-parties. We even offer users a money-back guarantee on all transfers, to give you total peace of mind.
A mobile app enabling eWallet payments
Mobile wallets or eWallets (electronic wallets) are an increasingly popular way to send money abroad quickly and securely. They save time and add an extra level of security. eWallets are a great solution if you send money to Ghana regularly and want to transfer money on the go.
TalkRemit's eWallet feature enables users to send money transfers to Ghana in a matter of seconds. It's simple, convenient and super-fast. Securely store your card details online or via our mobile app. You can top up your eWallet via credit card, debit card or bank transfer.
For recipients who receive mobile money, you can also transfer money via eWallet to other mobile wallets, banks and cash-out agents around the world.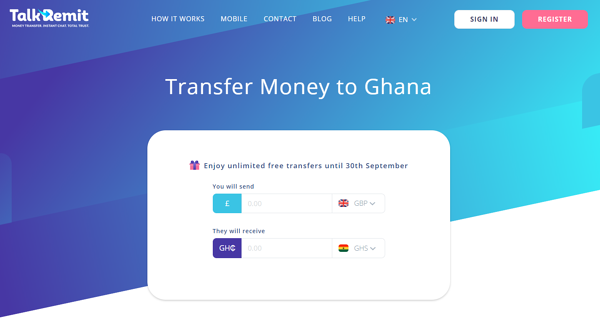 Safe and secure way to send money abroad
TalkRemit is a fully-licensed financial institution, regulated by the FCA. Our money transfer service is powered by cutting-edge technology and supported by trusted remittance partners to fulfil global transfers securely. We use market-leading payment protection and cybersecurity tools to keep your money and data safe.
The best app to send money to Ghana needs to be totally reliable. As an authorised Electronic Money Institution, TalkRemit is committed to ensuring your money transfers are secure. We proactively monitor our systems to maintain robust threat protection.
Lowest transfer fees on the market
Forget queuing at banks or agents to send money to Ghana, and incurring hefty fees. TalkRemit enables you to transfer money to Ghana whenever and from wherever you like, with no hidden charges or lengthy delays. And our money transfer fees are the lowest on the market.
At TalkRemit, we're dedicated to getting our users the best exchange rates for transferring money to Ghana, whether it's British Pounds (GBP), Swedish Krona (SEK) or other currencies, to Ghanaian Cedi (GHS). Enjoy competitive exchange rates for Cedis and low fees on all money transfers to Ghana.
Flexible payout options
Flexibility is key when it comes to global remittance. Everyone is unique. Different people prefer and require different methods of sending and receiving money.
We provide flexible sender options and payout methods to suit your needs. We want to make sending money abroad online or via mobile hassle-free. With TalkRemit, you can transfer money to Ghana in the following ways:
Send money to bank accounts across the country
Transfer funds for cash pick-up (in various branch locations)
Send money to mobile wallets
Use eWallet feature for super-fast transfers
Top up eWallet using a credit card, debit card or bank transfer
Combining mobile money transfers with instant messaging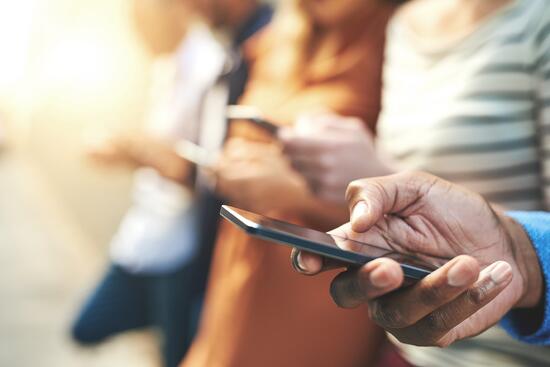 What also makes TalkRemit unique is our all-in-one remittance solution, which includes instant chat and video messaging.
We want to help the diaspora community to support and stay connected with loved ones back home. The best app to send money abroad also gives users free instant chat and video calling features. This means that you can send money to Ghana, invite contacts to TalkRemit and talk with friends and family – all from with our money transfer app!
Our mobile app is the only remittance service to offer free instant chat features. It's a great way to quickly let recipients know that their money is on its way.
Summary: TalkRemit is the best app to send money abroad
We've outlined all the reasons we think TalkRemit is the best app to send money abroad to loves ones in Ghana, but why not try it yourself for free and see what all the fuss is about? TalkRemit is the trusted money transfer app and instant chat service for the diaspora. Our user-friendly remittance service is the hassle-free solution for sending money to Ghana.
The TalkRemit app is available for iOS and Android via the App Store and Google Play. Download our money transfer app today and enjoy fast, secure & low-cost money transfers to Ghana.
TalkRemit is a fully-licensed financial institution, regulated by the Financial Conduct Authority (FCA). You can send money abroad online or via mobile to countries worldwide, quickly and securely. We offer a fast, flexible and low-cost remittance service, including an eWallet and instant chat features. Any questions? Contact our Customer Support Team or check out our handy FAQ page.