Global Money Transfers Made Simple: Send Money Online Using a Credit Card
In a digital age where payments in shops, cafes and supermarkets can be made in seconds with a bank card or smartphone, people living and working abroad shouldn't need to queue at banks or high street agents to send money to loved ones back home. It should be as easy as paying for groceries or topping up your railcard. The good news is that money transfer platforms enable you to send money online with credit card quickly and securely.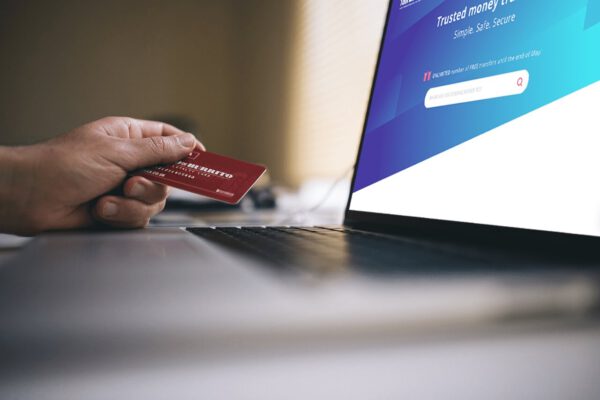 How to send money online with a credit card for overseas transfers

Global money transfer platforms make it easy to send money to your country of choice online, using a credit card. Transferring money overseas with a credit card is a convenient way to fund transfers in advance and pay the money off at a later date.
We recommend storing your credit card details on your chosen remittance platform or creating an eWallet (electronic wallet), which saves you from having to enter your card details each time you want to send money abroad and lets you make transfers in just a few clicks. Send money directly from your eWallet to a bank account overseas or to another eWallet, so family or friends can receive the money instantly.
Most online money transfer services enable you to use a debit card or transfer funds directly from your bank account, as you may be charged a small fee for using your credit card.
You can top up an eWallet via your credit card, debit card or bank transfer (using your unique bank account number and sort code). To top up your eWallet via your credit card or debit card, you'll need to enter the following:
16-digit number on your card
Card expiration date
3-digital CVV code
Online money transfer platforms take the headache out of global remittance. Let's look at the key benefits of using your credit card to send money online to family abroad and the reasons to leave outdated transfer methods behind.
Beat the bank queues
The adoption of online and mobile banking has made the process of sending and receiving money so much easier, and banks have evolved to move with the times. So, why should we have to wait in queues to send money abroad? Well, the answer is: we don't.
By setting yourself up on an online money transfer platform, such as TalkRemit, you can make fast and secure transactions in a fraction of the time – and with a lot less effort than going to the bank. Think of the time you can save, which can make a big difference if you have kids or if you need to travel far for work. You needn't make a special trip to town, you can send money to loved ones abroad from the comfort of your own home or via your mobile whilst you're out and about.
Pay less for international money transfers
Most banks and high street remittance agents include hefty fees and charges for the privilege of sending money to other countries. With advanced technology and streamlined payment processing capabilities available to consumers, these excessive charges for global money transfers are unnecessary. Online money transfer platforms offer a more transparent process, where rates and fees are clearly calculated and communicated to users.
Send money online with a credit card or debit card and make big savings on global money transfers. Services like TalkRemit are dedicated to getting you the best exchange rates on your transfers, to ensure recipients and senders get the most value from each transaction. Our remittance fees are now the lowest on the market.
Secure card details storage and money transfer protection

Those who are reluctant to use online money transfer services are often worried about security. But these services are bolstered by cutting-edge threat protection and security measures to ensure that your money and details are safe.
For example, our online platform and mobile apps use market-leading technology to make sure that our customers get the highest level of security for personal data, funds and card details. Our payment processing engine meets PCI-DSS compliance standards, so that your payment card details are fully protected, whilst our system uses SSL encryption and firewalls for safe transmission of data.
Enjoy more flexibility and transfer when and where it's convenient
Everyone has their own routine and preferred method when it comes to sending money abroad. But if you send money online with your credit card, via desktop or mobile devices, you can pick and choose when and from where you want to make money transfers. At home, at work, during your commute – it's up to you.
Sending money to family back home really can be a hassle-free process. And it's not just the sender that can benefit from online remittance services. Recipients can enjoy a convenient way to receive money. Even if some family members want to receive money the way they always have done, our money transfer platform enables you to send funds to cash pickup locations. Not everyone is quick to adopt new technology, but at least you can have it easy at your end!
Summary

Faster payments, greater control over your transfers and more visibility – online money transfer services take the headache out of the process. Send money online with credit card, debit card or eWallet and enjoy a convenient service for a modern age.
TalkRemit is a new online money transfer and instant chat service, built by a dedicated team with years of experience providing global remittance solutions to people who need to send money to family and friends abroad. See how our hassle-free online money transfer service works and which countries you can send money to via our platform and mobile app.
Try TalkRemit today and enjoy the lowest transfer fees on the market. Set up an account online or download the app via the App Store or Google Play.
TalkRemit is a fully-licensed financial institution, regulated by the Financial Conduct Authority (FCA). Securely store your credit and debit card details using our eWallet feature to make instant money transfers abroad. Want to learn more about our money transfer service or need help getting set up? Contact our amazing Customer Support Team and we'll do our best to assist you and answer any queries you have promptly. Alternatively, check out our handy FAQs.