5 Reasons Why TalkRemit is the Best Way to Transfer Money to the Horn of Africa
For people living in the UK with family back in Africa, sending money to loved ones back home becomes part of the weekly or monthly routine. However, we know that it can be tough to juggle work and domestic commitments, whilst supporting family in Africa and ensuring they get the money they need.
That's why TalkRemit set out to create the most convenient money transfer solution, making sending money abroad a simple, secure and hassle-free process. Here we outline 5 top reasons why TalkRemit is the best way to transfer money to the countries in the Horn of Africa.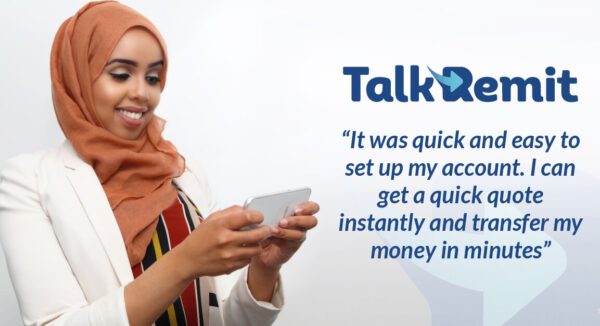 1. Convenience: Flexible options to suit your needs
We listen to our users and we know how important flexibility is for people who want to send money to countries in the Horn of Africa – not only for the sender but for the recipient too. That's why our money transfer service offers a range of remittance options to suit your needs. 
TalkRemit offers the convenience and flexibility to meet your needs. Whether you prefer sending money at home or on the go, via a desktop computer or mobile device, it's really simple to make money transfers in minutes with TalkRemit. We even offer a money-back guarantee on all transfers to give you peace of mind.
Bank Deposits | Cash pickup | Mobile payments | eWallet top-up
Everyone has their own preferred methods of sending and receiving money, and our flexible money transfer solution puts you in control. Beat the bank queues and send money back home to your family whenever and from wherever you want. Our online platform and mobile app are so easy to use.
Whether you want to transfer money into a bank account, arrange for funds to arrive at your family's closest cash pickup location, or send money from mobile to mobile, we've got you covered. You can use our eWallet service to top up your digital wallet for super-fast money transfers via your mobile.
2. Speed: Instant global money transfers
If speed is key when it comes to your money transfers, then TalkRemit's instant money transfer service is ideal for you. Sign up in minutes and send money in seconds with our rapid remittance service. 
Do you want to transfer money to countries in the Horn of Africa quickly and securely via your mobile? Then you'll love the TalkRemit mobile app. Our eWallet feature enables you to make instant transfers in just a few taps of your phone screen. 
We use cutting-edge technology that allows us to fulfil transfers immediately, with no delays for recipients, which provides peace of mind for family and friends. Download the app today to send money and track your transfers on the go.
3. Trust: Secure remittance service, powered by Dahabshiil
At TalkRemit, we know the importance of trust in the global remittance industry and we understand the needs of the East African community. Our founders and management team are from the Horn of Africa, and TalkRemit was created out of the need for a more convenient and trusted solution for sending money quickly and securely from the UK to countries in the region, such as Somalia, Somaliland, Kenya, Ethiopia and Uganda, to name just a few. [Add in this line once this has been enabled – "And did you know that you can money from Sweden to Somaliland via TalkRemit?]
We have partnered with Dahabshill, who have been providing trusted remittance services to millions of African people for over 50 years. Your money is in safe hands with TalkRemit. We are FCA-approved and fully verified. Thanks to our partnership with Dahabshiil, we ensure user enjoy the most secure money transfer service possible. We protect your money and keep your details secure. 
Powered by Dahabshiil, we combine the capabilities and the know-how of this established money transfer service provider with our flexible, user-friendly app, to bring the African community living abroad a modern solution for fast, flexible and secure money transfers.
We even offer a money-back guarantee. Find out more at the TalkRemit Help Centre.
4. Cost: Enjoy the best exchanges rates and low-cost transfer fees
Why queue up at banks and agencies only to incur excessive fees for sending money to loved ones abroad. Skip the queues and make low-cost money transfers with TalkRemit. Our global remittance service is the best way to transfer money to Somaliland and other countries in the Horn of Africa. 
TalkRemit helps you to get great exchange rates and enjoy low-cost fees when sending money to friends and family abroad. There are no hidden costs with TalkRemit – you can calculate your transfers instantly with our Quick Quote feature. 
If you want to make transfers to the Horn of Africa using your mobile and digital wallet, you'll be pleased to know that transfers to eDahab are free of charge.
5. Ease of use: User-friendly platform for hassle-free transfers
We pride ourselves on being able to provide people with the best and easiest way to send money and stay connected with loved ones abroad. TalkRemit is the only global remittance service that enables free instant chat and video messaging from within the app.
Invite your contacts to TalkRemit directly from our mobile app and send instant messages, enjoy video calling capabilities and connect with friends and family, all in one place. Why not use our instant chat feature to let recipients know that money is on its way to them? 
The best thing about our all-in-one money transfer and instant chat service is how easy it is to use. Check out our simple three-step process for sending money abroad:
Simply enter the amount that you want to send in the space provided.
Select a new or existing recipient – you can securely store recipient details for even faster money transfers.
Our handy summary offers a clear breakdown of your proposed transfer. Review the summary and send money instantly! 
Try TalkRemit today: The best way to transfer money abroad
Does TalkRemit sound like the money transfer solution for you? Give our trusted money transfer service a try today. It's quick and easy to get set up and you could be sending money to family in the Horn of Africa in a matter of minutes. And there's no better time to start using TalkRemit. 
Register now and start sending money to countries in the Horn of Africa today. 
Send fee-free money transfers the Horn of Africa
Any questions? TalkRemit's amazing Customer Support Team is always on hand to help you if you need any assistance with account registration, transfers or if have a question about any of our features. Contact our Customer Support Team or explore our handy FAQs, which should answer any queries you might have.