5 Great Ways to Transfer Money to Kenya
Global remittance has evolved a lot in recent years. Now the diaspora community across the world has much more flexibility when it comes to sending money to family and friends abroad. Do you need to send money to loved ones back home in Kenya? We look at 5 great ways to transfer money to Kenya, quickly and conveniently.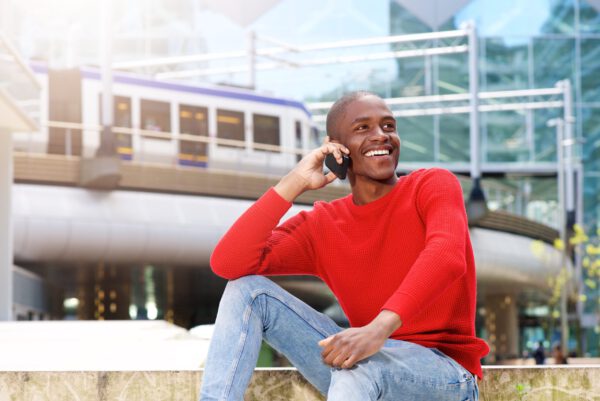 1. Online money transfer platforms
Using an online money transfer platform to send money to Kenya is a no-brainer in an age of contactless payments and online banking. Why travel out of your way and queue up in a bank or remittance agency, when you can transfer money online when it suits you?
There are a number of different online money transfer platforms on the market, offering various different options and levels of flexibility. They will save you time, and the majority of them will offer better exchange rates and lower fees than you'll find on the high street.
2. Using a mobile money transfer app
Using a money transfer app to send money abroad is a really quick and convenient remittance solution. If you're used to using your mobile for banking, buying products, ordering food or even using apps for booking tickets, taxis or flights, then making international money transfers via your phone will come naturally. 
There's a range of money transfer apps which enable users to send money to abroad via their mobile phones. Not all will service Kenya, so check which destination countries are available on different money transfer apps.
Mobile money is extremely popular in Kenya. Mobile money transactions reached 3.7 trillion KES (Kenyan Shilling) in 2018, so using a money transfer app is not only a convenient way to transfer money to Kenya but sending money to a mobile wallet, such as M-Pesa, is likely to be the preferred method of your recipient.
Securely save recipient details in your money transfer app for super-fast transfers on the go.
3. Creating a secure mobile wallet & topping it up via card or bank transfer
Why not create a mobile wallet to send money to Kenya even faster? Mobile wallets give you peace of mind and more control over your transfers, plus an added level of security.
Mobile wallets are the number one payout method in Kenya and M-Pesa is the leading provider of mobile payments in the region. In fact, M-Pesa was the world's first ever mobile wallet, launched by Safaricom in Kenya in 2007, and it has helped to transform the country's economy and changed the way Kenyans spend, save and send money.
You can top up mobile wallets easily online or from a mobile app, using your credit card, debit card or bank transfer. 
When sending money to Kenya directly from a mobile wallet to a bank account, you'll need to provide the name, address, phone number and bank account details of the person you wish to send money to, and funds will be credited directly to their account. Alternatively, send money from your mobile wallet to another mobile wallet or for cash pickup at your recipient's preferred branch. 
4. Transferring funds to cash pickup locations
Many online remittance solutions give users the option to transfer money to Kenya to an array of cash pickup locations in the country. 
Some family members back home might be reluctant to adopt new methods of receiving money from abroad, especially if they're comfortable collecting money as cash from local pickup locations. That's why certain online money transfer platforms, like TalkRemit, offer this service and partner with trusted remittance agents in Kenya to fulfil cash collections.
5. Sending money as bank deposits
If you just want to send money directly to someone's bank account, this is a quick and easy way to transfer money to loved ones in Kenya. 
When using your credit card or debit card to make an online transaction, your money will hit the recipient's account in hours, not days – as it can sometimes take with more traditional methods of global remittance. Or you can top up an electronic wallet via bank transfer to send money to bank accounts abroad.
To send money to someone's bank account in Kenya via credit or debit card, you'll need to submit your:
16-digit number on your card

Card expiration date

3-digital CVV code
For bank transfers, you'll need to submit your:
Unique bank account number

Sort code
Summary: Embracing modern ways to transfer money abroad
Millions of people send money abroad each year, and global remittances are expected to grow 3.7 percent to $715 billion in 2019, according to the World Bank. In today's digital age, where so many services are available to us at the click of a button, the process of sending money abroad should be quick and hassle-free. So, it's time to embrace modern ways to transfer money to Kenya.
TalkRemit enables people living in the UK and other countries, such as Sweden, Norway, Denmark and Belgium, to send money to Kenya via our fast and flexible online money transfer platform and mobile app. We're the trusted global money transfer and instant chat service, powered by Dahabshiil. 
Try TalkRemit today and enjoy unlimited fee-free money transfers until the 31st of July! Create an account online or download the app via the App Store or Google Play.
TalkRemit is a fully-licensed financial institution, regulated by the Financial Conduct Authority (FCA). Send money abroad online or via mobile to countries across the globe, quickly and securely. We offer a fast, flexible and low-cost remittance service, including an eWallet (mobile wallet) feature. Any questions? Contact our Customer Support Team and or check out our handy FAQs.